4 Warm Campfire Drinks to Enjoy this Fall
Fall is just around the corner, and we are already experiencing cooler weather here at Mendocino Redwoods RV Resort, especially at night when the temperature dips down to the 40s and 50s. It's the perfect time to bundle up and enjoy warm campfire drinks with your loved ones.
After an action-packed day touring the local scene and enjoying all our resort has to offer, wind down with one of these easy-to-make campfire beverages below. For the adults, each recipe includes a cocktail version of the drink.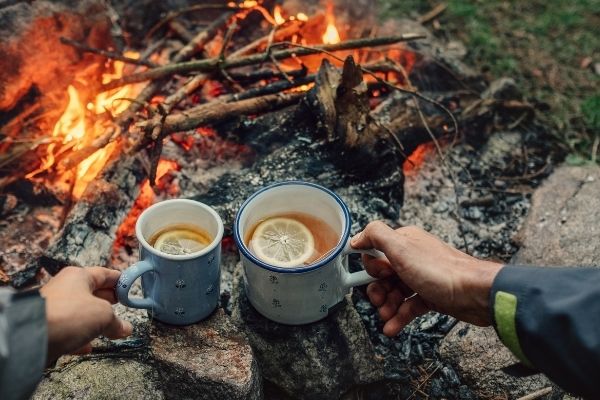 Try These Warm Campfire Drinks This Fall Season
Super Simple Warm Caramel Apple Drink
Warm apple cider over a fire or grill. Pour cider into mugs, top with whipped cream, drizzle on caramel, and garnish with a cinnamon stick. For a cocktail version, before piling on the toppings, add a splash of dark rum.
Peppermint Hot Chocolate
Heat up water in a tea kettle or pot. Pour water into mugs and steep a peppermint tea bag in each cup for five minutes. Remove the bag and stir in a packet of hot chocolate mix. For an adult drink, with an extra kick, add a shot of peppermint schnapps.
Nutella Hot Chocolate
Another fun way to incorporate chocolate in warm campfire drinks is with Nutella. This recipe, which serves up to 4 campers, calls for 4 cups of low fat or skim milk, 2 tablespoons of Nutella, 2 tablespoons of unsweetened cocoa powder, and 2 tablespoons of sugar.
Heat milk in a saucepan. Once it begins to warm and steam, whisk in the remaining ingredients. Bring to a gentle simmer while stirring and remove from the heat. Add toppings–marshmallows, more Nutella, chocolate chips, or whipped cream with crushed hazelnuts– and enjoy. Optional adult concoctions may include a couple ounces of bourbon, cacao rum, or chocolate liqueur.
Campfire Pumpkin Spice Latte
This non-caffeinated version of a pumpkin spice latte calls for 1 cup of pumpkin puree, 1 quart of milk, ¼ cup of white sugar, 1 teaspoon of ground cinnamon, and 1 tablespoon of vanilla extract. Combine the ingredients in a saucepan and heat to a simmer. Use a whisk to blend well. This amount serves up to 4. Substitute the cinnamon and vanilla for a splash of cinnamon whiskey like Fireball and vanilla vodka for a grown-up beverage.
Low on Firewood?
Stop by our camp store for another bundle or two so you can continue the fireside chats and sipping on warm campfire drinks with family and friends. This Fall will surely be the most memorable, cozy camping experience of them all!
Book Your Stay With Us Today!
---