7 Tips for a Successful Camping Trip With Your Dog
Mendocino Redwoods RV Resort understands that camping with the whole family means bringing Fido along for the adventures. That's why we offer amenities for everyone in the party – humans and canines. So, bring your pup along hiking, for a fishing venture, or while you tour Oldtown. And for some off-leash play, there is a large, fenced dog play yard. Coupled with the following tips, you and the whole crew will have a doggone good time on your camping trip with your dog!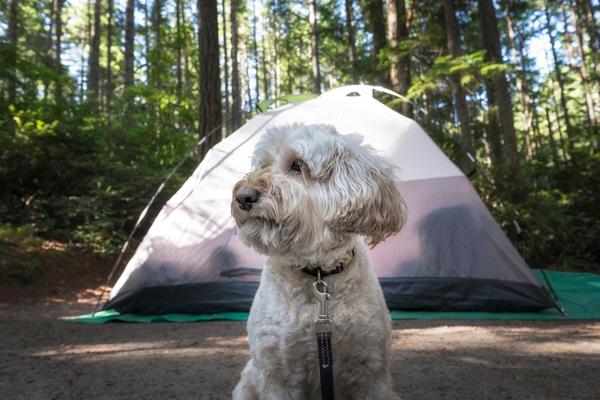 Tips for a Memorable Camping Trip With Your Dog
Tip #1:
Ensure your camping trip with your dog is successful by packing essential items, including:
A leash
Food and water
Bowls
Favorite treats
Comfy bedding
Favorite toys
Any additional medications or supplements they may need
Tip #2:
Unless they are in the fenced-in, off-leash dog park, always keep them on a 6-foot or shorter leash and pick up after them. There are doggie poo bags in the store and dog park.
Tip #3:
Please do not leave your dog unattended at/in your RV, cabin, or vehicle. Bored dogs get rambunctious. Keep them active with playtime in the off-leash dog park and exploratory walks.
Tip #4:
Be sure your pup is up to date on all vaccines and medications, like tick and flea preventative meds. These are their first line of defense against diseases. Also, have a copy of their records on hand whenever you go camping.
Tip #5:
Include a tag on your dog's collar with your name, phone number, and campsite/cabin number in the event that your pup accidentally wanders off.
Tip #6:
If you have specific concerns about camping with your pet, contact us with any questions you may have. Be aware that we do have breed restrictions. We want you to arrive at the campground as prepared as possible.
Tip #7:
Stop your fur baby from tracking dirt and other debris into your RV or pet-friendly cabin by brushing or wiping them down with a dog brush or towel.
Camp How You Like With Your Dog
At Mendocino Redwoods RV Resort, you and the family can enjoy a camping trip with your dog in a campsite or pet-friendly cabin. Whether you're looking to connect with nature or give the kiddos an adventure, we're in the business of helping you create memorable experiences for you and your family, including your four-legged fur babies.
Enjoy All The Camping Pawsibilities This Season!
---