Celebrate The Best Things About Summer With Us
Pool time, sightseeing, cookouts, and time off school. These are a few of our campers' favorite things! When you and the family vacation at Mendocino Redwoods RV Resort, you'll be surrounded by all the best things about summer, from our on-site amenities and activities to nearby attractions. You may just want to book a few more getaways with us before school begins and the summer fun ends.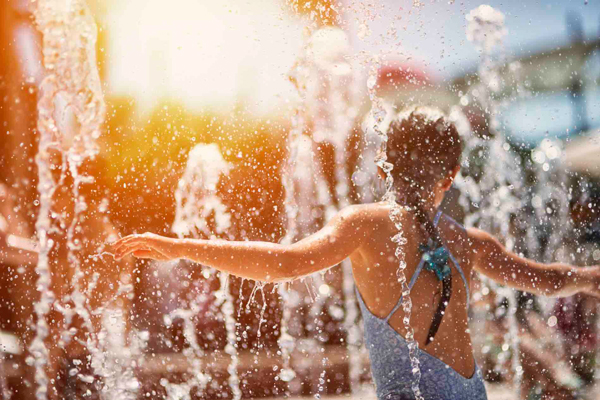 Experience The Best Things About Summer at Mendocino Redwoods
#1: Water Play All Day
During the summer months, guests can enjoy all our resort activities, the most sought-after ones being the outdoor pool and jacuzzi, along with the kiddie wading pool and spray waterpark! It's swimsuit weather, after all! And with water play available from sunup to sundown, you and the kiddos may just be living in your swimsuits your entire stay!
#2: Outdoor Activities
With plenty of sunshine, this season is great for outdoor adventuring. At Mendocino Redwoods RV Resort, there's no shortage of fun to have with the family. Enjoy fishing, hiking, mini golf, disc golf, outdoor movies, an indoor arcade, and more! Our resort is equipped with all the fun you want (and then some)!
#3: BBQs
One of the best things about summer is the smell of burgers and hotdogs on the barbeque! Enjoy these and other mouthwatering dishes at your campsite or cabin. Bring your portable grill from home or use the grill at the site. And don't forget to pack roasting forks for your campfire. We sell propane and firewood, so your meal plans won't fall short.
#4: Sightseeing and Attractions
Another aspect synonymous with summer is visiting exciting attractions and one-of-a-kind locations. When you vacation at Mendocino Redwoods RV Resort, you are nearby family-friendly destinations, including Seabiscuit Ranch, botanical gardens, and the historical Skunk Train, among other exciting stops.
#5: Time with Family and Friends
With kids out of school and time off from hectic daily schedules, summer is prime time for quality time with family and friends. Vacation time is an excellent reason to disconnect from our devices and reconnect with nature and the ones we cherish.
If you are visiting loved ones while staying at Mendocino Redwoods, invite them over for the day and enjoy all we have to offer together! Visitors are always welcome. Just be sure to check them in at the office to register and receive a car tag and wristband.
What Are Your Favorite Things About Summer?
Much more can be added to our "Best Things About Summer" list. What are your family's favorite parts about the season? Come and experience all the endless summer fun at Mendocino Redwoods RV Resort!
Your Best Summer Vacation Awaits!
---