Don't Forget To Pack These Camping Essentials This Spring and Summer
With spring in full bloom and summer soon to follow, it's the perfect time of the year to get out and do some serious camping. But to ensure an enjoyable experience for the whole family, it's a good idea to be prepared with camping essentials! The following are some must-have items packed away for your fun-filled getaway!
Pack These Camping Essentials
Camping Chairs
Foldable, portable camping chairs are not only great for sitting around the campfire or lounging around the campsite, but they are also quite handy to easily transport around the campground/resort to other on-site events. For instance, when you and the family camp at Mendocino Redwoods RV Resort during the weekends, you'll want to bring your camping chairs to the outdoor movie theater. Every Friday and Saturday night, you and the kiddos can enjoy a flick!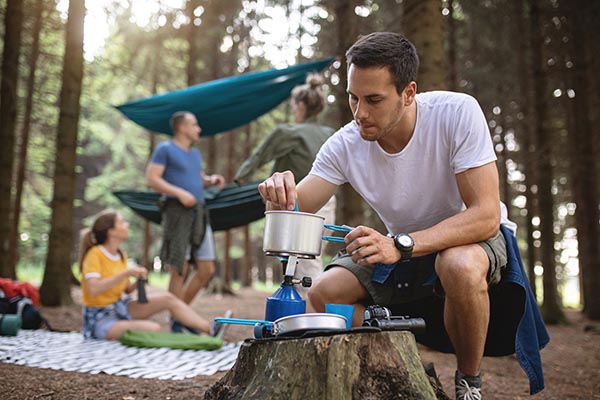 Sunscreen and Swimsuits
What's an RV resort without a swimming pool?! April 1st was the official opening of our pool and splash park. So our guests can delight in some wet n' wild fun, along with our many other on-site activities and attractions! Plus, don't forget to slap on the sunscreen; even on cloudy days, our skin is susceptible to the sun's rays.
Nifty Campfire Cooking Tools
Get the whole family excited about cooking around the campfire with these camping essentials:
Roasting Sticks
Campfire Pie Iron/Sandwich Maker
Coffee Percolator
Every site at Mendocino Redwoods RV Resort comes complete with a fire ring, so you can enjoy meals cooked outdoors morning, noon, and night! Enjoy hot coffee in the wee hours of the day, grilled cheese sandwiches for lunch, and s'mores for dessert. This is also an excellent opportunity to teach the kids about campfire safety!
Dog Leash and Waste Bags
Mendocino Redwoods is Fido-approved! You can bring your pup to romp around in our dog park or stroll along our hiking trails! Just be sure to bring along the leash and waste bags. Aside from our off-leash dog park, your pup must be on a leash when out and about the grounds.
Flashlights
Sometimes nature calls after dark. If you, your kiddos, or even Fido need a bathroom break, bring along a flashlight to safely navigate your way around the resort. Opt for hands-free headlamps, especially when escorting the kids or walking your pup.
All Packed And Nowhere To Go?
Great! The camping essentials are packed! You and the family are all set to make even more camping memories. Still, one thing is missing… your camping reservations. Your family getaway is just a click away when you book your stay at Mendocino Redwoods RV Resort. Choose the best accommodation that suits your camping crew, from RV and tent campsites to cozy cabins tucked in the woods. Then get ready for days filled with exciting outdoor activities and nights snuggled around the campfire! Your family adventure awaits!
Pack Your Essentials and Excitement For An Unforgettable Camping Adventure!
---