Get Set For a New Season of Camping with RV Spring Cleaning Tips
Winterized your RV or just haven't had the chance to give it a deep clean in some time? With a new season upon us, now is the perfect time to give your rig the attention it desperately needs with these RV spring cleaning tips. While the inside and outside should be washed, this article focuses on the RV interior, from top to bottom.
RV Spring Cleaning Tips For Your RV's Interior
As you clean each section of the RV, make it a point to check the condition of everything. Is there water damage on the ceiling? Do hinges or knobs need to be fixed on cupboards or drawers? Are there any other repairs that need to be addressed?
Also, when it comes to cleaning products, use those that are compatible with your RV. Steer away from harsh, abrasive cleaners.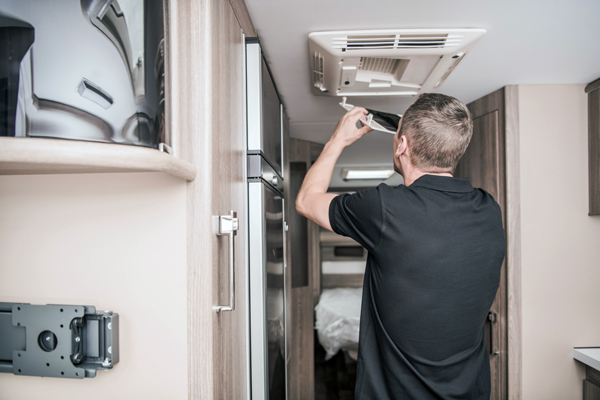 Ceiling to Walls
Take a top to bottom approach when cleaning the inside of your RV. Begin from the ceiling down to the walls, scrubbing dirt, dust, grease, and grime off so it falls to the floor and counters, the next sections to clean.
Wiping down the ceiling includes cleaning the vent fans and screens, along with the air conditioner and its filter. Cleaning the walls includes removing and spraying down window screens and wiping the windows.
Rooms
Clear out and wipe down the inside/outside doors of cabinets and drawers in the kitchen. Get rid of any food that has expired or items no longer needed. Wipe down counters and appliances. Also, use this time to start a list of supplies you may need for your next camping trip. Follow this exact routine in other rooms of your RV.
In the bathroom, disinfect and sanitize all surfaces, scrub the toilet bowl with a brush, and squeegee the shower walls and door.
Linens, Curtains, and Upholstery
Some additional RV spring cleaning tips include:
Wash all bedding, curtains, and towels.
Dust blinds.
Use the proper products to clean upholstery, and consider covering your furniture with washable covers if you have pets.
Floors
Lastly, take care of the floors. First, remove all of the rugs and vacuum/mop every room. Replace or clean rugs as needed.
With these RV spring cleaning tips, you and the family will be all set for your next camping trip to Mendocino Redwoods RV Resort. Of course, you don't have to have an RV to camp with us! We offer all sorts of accommodations, including tent sites and an array of cabin types! Come experience the fun and adventures in our neck of the woods!
---