Hiking with Kids at Mendocino Redwoods
Hiking With Kids
Big trees, rolling hills, views of the fishing lake, and lots of lush landscaping around Mendocino Redwoods would put anybody in the mood for a stroll, a walk, or a hike. Hiking with kids is easy and fun – the ½ mile loop trail here at the park is so smooth even the littlest camper can do it.
With just a little bit of practice here at the Resort, you'll be ready for hiking with kids on these easy, nearby trails in Willits…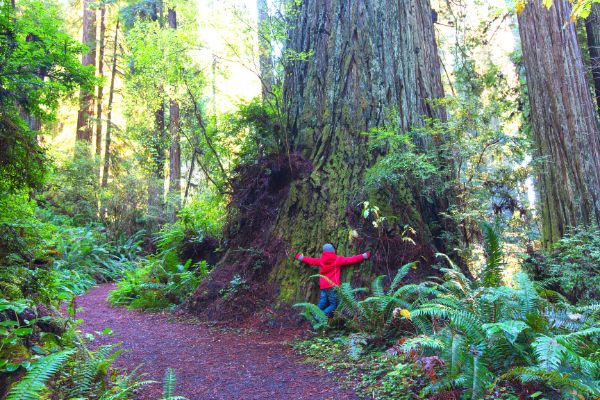 Fawn Lily Trail
This beautiful 0.6 mile out-and-back trail runs along Lake Emily at the end of the Brooktrails Golf Course. The trail is open year-round and is easy enough for children. It takes an average of 12 min to complete. This is a popular trail for fishing, trail running, and walking. Dogs are welcome, but must be on a leash.
Mike's Trail
Another easy routefor hiking with kids is Mike's Trail. You'll find it at 24447-24539 Lilac Roadin Willits. Just 1.1 miles of out-and-back, the trail is open year-round and lovely to visit anytime. It takes about 30 minutes to complete this hike. Dogs are welcome and may be allowed off-leash in some areas.
Le Brun Trail
Start this easy 0.6 mile out-and-back trail at 24555 Lilac Drive and continue along Lake Ada Rose, a serene fishing reservoir here in Willits. It might take 14 minutes to do this trail. If you bring your fishing tackle, you can cast your line into the lake while you're there. Your doggie can come too, but he must be on a leash.
More Family Fun at Mendocino Redwoods
Hiking with kids is big fun, and so is swimming in the pool, fishing in the lake, playing mini-golf with the family, running around in the dog park, hanging out at the video arcade, and the tons of other ways to have a blast here at Mendocino Redwoods RV Resort. Reserve your stay and have the time of your life under the big trees!
---