How To Pick The Best Tent For Your Family Camping Trip
Summertime is the best time to go tent camping, and Mendocino Redwoods RV Resort has the perfect backdrop for the occasion. Be surrounded by natural beauty, from the rolling hills to lush greenery, and enjoy an assortment of on-site amenities and activities to complement your family camping trip.
Choose between our two types of tent sites.
Standard Sites are located along the creek and next to mini-golf and the movie green. These rustic sites accommodate up to 2 tents and 6 people.
Deluxe Sites are located next to the Deluxe Cabin Lodges and can accommodate 1 tent only and up to 6 people. The site is a private fenced-in cemented area and comes complete with electric and water hookups.
All tent sites are outfitted with a BBQ grill, picnic table, and fire ring.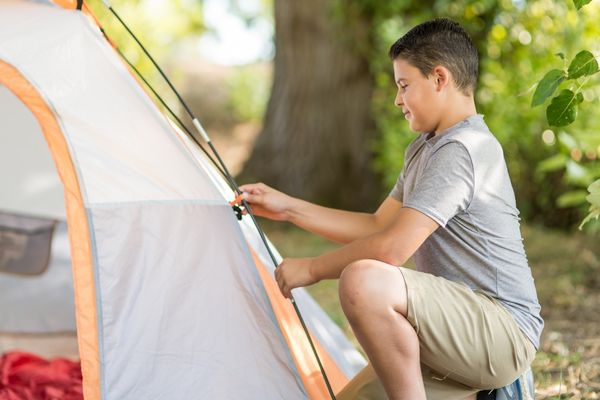 Camping Can Be In-Tents, So Be Prepared With A Good Tent!
The only thing that could make your family camping trip even better is ensuring you have the best tent for your needs. For this to happen, there are a few things to think about when selecting your ideal family tent.
What To Consider When Choosing The Best Tent For Your Family Camping Trip
Consider the best tent size for the family's needs
The most common way to determine the size of a tent is the sleeping capacity rating or the maximum number of people that can sleep inside it. When thinking about the best tent size for your family, oftentimes, buying bigger is better. Getting a tent rated for 1-2 people more than your total family members gives you extra space to store your camping supplies and room to move around.
Consider the setup time
Speaking of tent size, opting for too big of a tent could be a huge mistake, especially considering the setup process. Oversized tents can be heavy and bulky and take an unnecessarily long time and additional manpower to put up. Always keep the tent dimensions and weight in mind when researching tents, and look at the setup instructions as well.
Consider the tent layout
Another item to consider when choosing the best tent for your family trip is the layout. Nowadays, tents come in all fun shapes, sizes, and designs. Some tents are one-room units, and others have 2 or more rooms. The extra room can double as a screen room or "porch." Some tents have an attached canvas as a nice sunshade or shelter from the rain. When choosing the layout, factor in privacy issues, weather conditions, and storage space for wet or muddy gear.
Tent Camping Isn't The Only Way To Stay
One of the great things about camping at Mendocino Redwoods RV Resort is that there are various ways to stay. Aside from tent camping, you can vacation in an RV site or cabin. You choose the best accommodation to fit your family camping trip, and we'll help make it the best experience!
Have The Best Summer Camping Getaway With Us!
---