How to Prepare for an RV Thanksgiving at Mendocino Redwoods RV Resort
What are your Thanksgiving plans this year? How about spending time in the great outdoors with loved ones enjoying an RV Thanksgiving at Mendocino Redwoods RV Resort? Choose between premium, deluxe, and standard pull-thru and back-in RV sites to enjoy your holiday celebrations. (Or opt for a cozy cabin!)
For those braving their first Thanksgiving preparing a feast in their RV, we've got a few tips to make meal planning run a bit smoother.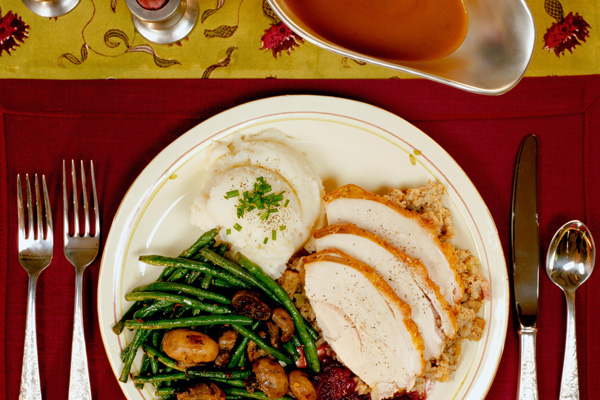 Tips for a Happy RV Thanksgiving:
Gather and cook what you can early
Simplify dinner preparations for Thanksgiving Day by pre-measuring, bagging, and labeling ingredients beforehand. Pre-bake and cook desserts and side dishes at home that can be reheated.
Clear out the RV fridge
While some RVs are equipped with residential-sized refrigerators, most come with much smaller units. If you are in the latter group, clean out your RV fridge ahead of time to ensure you have plenty of space to store ingredients before cooking and keep leftovers afterward.
Opt for a small turkey or use another appliance
For a small family or dinner for two, forgo the giant turkey. Instead, cook a small turkey or even turkey breasts or legs in the oven or pressure cooker. For larger RV Thanksgiving gatherings, use something besides the tiny RV oven to cook faster and more evenly, like a(n)
Electric roaster oven
Deep fryer
Slow cooker
Grill
Pack kitchen essentials
Along with gathering ingredients, stock your RV kitchen before taking off. Besides dishware, utensils, pots, and pans, don't forget items like paper towels, coffee filters, aluminum foil, plastic wrap, and containers for left-overs. A cooler may come in handy to store drinks.
Of course, if you forget to bring something for your RV Thanksgiving at Mendocino Redwoods RV Resort, we carry all sorts of camping essentials at our store, including firewood and propane. In addition, many more amenities are open for everyone to enjoy throughout your holiday getaway!
Book Your Cabin or RV Thanksgiving Celebration with Us!
---