Kids Fishing Trips
Where's Waldo? A better questions is…where are you? When you are looking for something different, exciting, and really fun to do with your children while vacationing at Mendocino Redwoods RV Resort, the kids fishing trips aboard the Seahawk at All Aboard Adventures is just the ticket for you.
All Aboard Adventures departs from Noyo Harbor in nearby Fort Bragg. Captain Tim of the Seahawk is a seasoned Charter Boat Professional, who has delighted parents and children on kids fishing trips for years.
Parents often ask Captain Tim, "How old do you have to be to fish?" He says, "There is no age limit! We have had kids from 3yrs and up helping to reel the fish in on kids fishing trips!"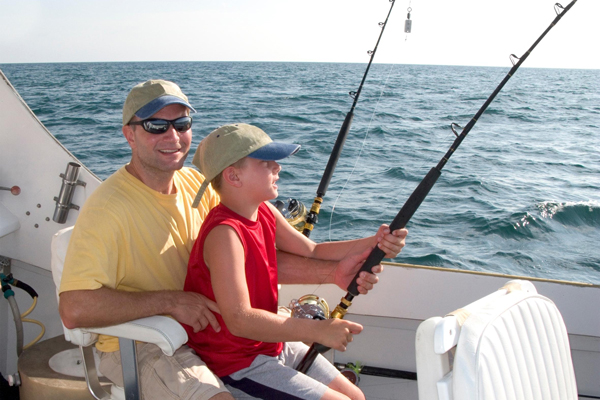 More Adventures on the Seahawk
In addition to kids fishing trips, All Aboard Adventures offers other trips your children will enjoy…
Whale Watching
See them now! California Gray Whales migrate South from Alaska to Baja California during the months of December through February and return North during the months of February through April. They are very close to shore and a 5 – 15 minute ride gets you a better than 95% chance of sighting these whales. Getting next to these gentle giants is fun for people of all ages – children are welcome.
Bay and Sunset Cruises
Cruise beautiful Noyo Harbor with your kids, your friends and all their kids – The Seahawk can seat up to 30 people. Captain Tim offers excellent customer service to insure that you have fun on your charter adventure.
How to Book Kids Fishing Trips
Captain Tim does it the old-fashioned way…he talks to people. Call All Aboard Adventures at (707) 964-1881 to reserve your kids fishing trips or cruise around Noyo Harbor in Fort Bragg. And while you're making reservations, book your stay at pet-friendly Mendocino Redwoods RV Resort.
---