Littlecup – A Fun Activity for Kids and Grownups Too!
A Fun Activity for Kids – Visit Littlecup
Looking for a fun, interesting activity for kids and grownups, too? Hop in the car and head to Fort Bragg to find Littlecup, a ceramics and letterpress studio. Owner Sabine Brunner is a ceramic and letterpress artist and the mother of two young sons herself. She teaches children and adults how to use clay and letterpress equipment to create works of art of your own. It's fun!
Ceramics
Sometimes called 'the world's most fascinating hobby,' ceramics is the art of using clay to make vases, bowls, figurines, and all kinds of decorative objects. Treat yourself or your child to a two-hour private clay class and make a set of dishes, spoons, cups, sculptures or anything elseyou can think of. After hand-building your pieces, you can paint them with colorful glazes.
This fun activity for kids will be complete when Sabine bakes your creations in a kiln to harden the clay and set the glazes. She will even ship the finished pieces to you if you have returned to your home elsewhere. All materials and firing are included!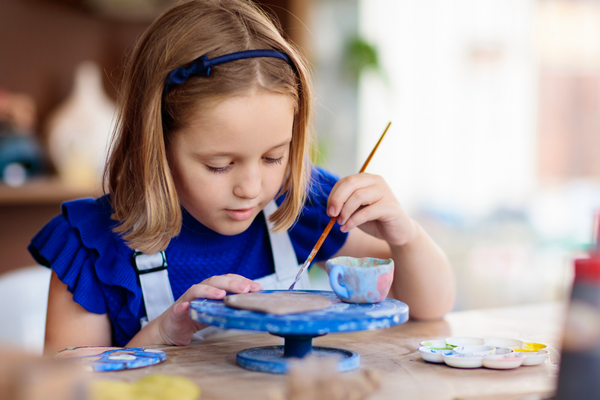 Letterpress
Discover how to use an old-fashioned printing press. Make your own cards using type, decorative ornaments, and designs you craft yourself. This activity for kids is probably better for older children and teenagers since it involves carving a design in a linoleum block with sharp tools. The private letterpress class is three hours long, and can run longer if you need time to finish a project.
Letterpress at Home
Did a fun activity for kids turn into an obsession? Sabine will rent a tabletop printing press to take home with you.
Shopping at Littlecup
In addition to her own ceramic and letterpress arts, Littlecup also sells Paint a Dish & Paint a Mug Kits, Linoleum Block Kits so you can use your rented printing press at home, Birthday Clay Kits, vintage doll-making supplies, vintage feather décor for hats, books, and Christmas tree ornaments.
Call Sabine to schedule a class or an appointment at a time that suits you. Her phone is (707) 962-3102. Visit Littlecup Studio & Shop at 223 East Redwood Avenue, Fort Bragg, CA 95437.
Your quest for a fun activity for kids can turn into a fascinating day trip or a life-long passion. Reserve your stay at family-friendly Mendocino Redwoods RV Resort to give your children the opportunity for a new kind of adventure.
---