Point Cabrillo Lighthouse
Ever since 1909, the Point Cabrillo Light Station has been ensuring the safety of thousands of ships passing through the treacherous waters off Point Cabrillo. Take a little side trip to Mendocino to see this historic – and still active – lighthouse when you reserve your Spring getaway at Mendocino Redwoods RV Resort. The 1000 watt beam from the 47' light station tower is visible 14 miles out to sea to aid modern mariners.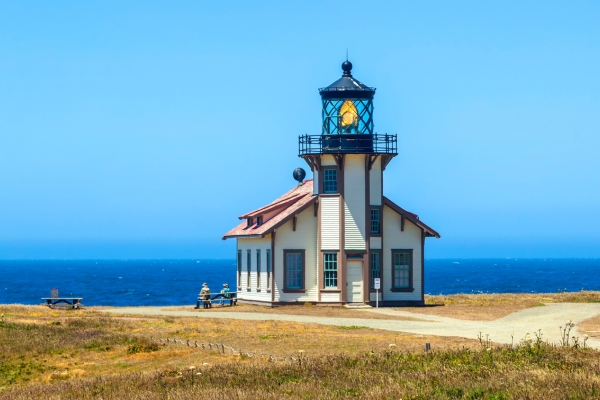 Lots More to See at Point Cabrillo State Historic Park –
Hop in the car to see the lighthouse
The Point Cabrillo Light Station is just a little bit south of Fort Bragg on CA 1. In addition to the restored Lighthouse and Museum, the 296.5 acres of park grounds have 11 other structures, including the lightkeepers' homes, the Blacksmith Shop, and the Marine Science Aquarium. The public buildings are all wheelchair accessible.
Wildlife and Hiking Trails
When you bring the family to see the sights in the park, you'll be treated to views of more than 50 species of birds, including northern harriers, white tailed kites, osprey, black oystercatchers, and cormorants. From the bluff tops, you may see grey whales, dolphins, seals, sea lions, or even a rare blue whale.
Hike part of the California Coastal Trail which connects the Light Station to Caspar Headlands State Beach one mile to the north and passes Frolic Cove where you'll see the remains of a Gold Rush-era shipwreck.
See all these fascinating sights when you visit the Point Cabrillo Light Station at 13800 Point Cabrillo Drive in Mendocino. The park is open daily from sunrise to sunset. For more information, call (707) 937-5804.
Bring your pictures of Point Cabrillo Lighthouse back to Mendocino Redwoods RV Resort where you can share your adventures with other friendly campers under the tall trees.
Marvel at the power of nature and the sea, when you reserve your camp site at Mendocino Redwoods RV Resort!
---