Take a Day Trip to Montgomery Woods State Natural Reserve
Explore remote redwoods at the Montgomery Woods State Natural Reserve when you head south from your campsite at Mendocino Redwoods RV Resort. Go south on US 101 for about 23 miles, then, to get to the trailhead, take the Orr Springs Road west from Ukiah at exit 549. Approximately 1.75 miles west of Orr Hot Springs, look for the Reserve sign, restroom and parking lot on the left.
You will be rewarded with one of the world's tallest trees that is hidden in the Reserve. A 367.5-foot redwood was once declared the world's tallest redwood. It is 10 feet in diameter, and its first branch pops out of the trunk at 190 feet. Montgomery's famous redwood is not marked – you just have to observe and speculate. Take your camera to capture a selfie with this gigantic tree.
Hiking with the Family to Explore Redwood Groves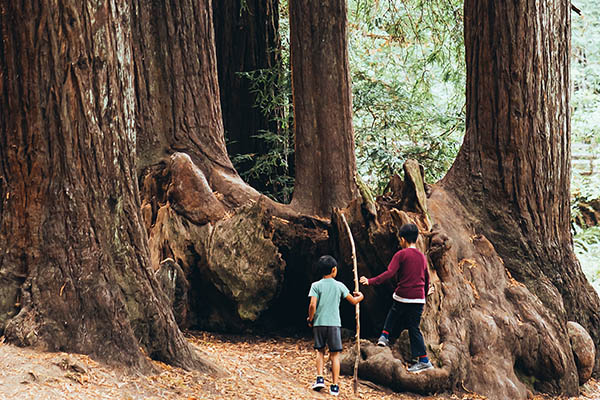 Discover five pristine redwood groves at Montgomery Woods Reserve. This park has only one trail… a 2-mile loop following an old fire road that leads to five separate old growth redwood groves.
Difficulty: Moderate
Trail Length: 2 miles
Elevation Change: 220 feet
Average Time: 1-2 hours
Montgomery Woods Park Residents
Redwood trees aren't the only living things you'll find In Montgomery Woods State Natural Reserve. One of the Reserve's attractions include spawning steelhead and coho salmon in the Big River.
During amphibian breeding season in early spring, look for orange-bellied California newts scurrying about.
Four species of bats roost in the 'goose pens' (tree cavities) of the giant redwoods. You might see big brown bats, long-legged bats, California myotis bats, and western small-footed myotis bats.
How to Enjoy Montgomery Woods
Enjoy every minute of your adventure at Montgomery Woods State Natural Reserve with good-sense safety tips… take water and snacks along with you, stay on designated trails, take breaks, and let people know where you are going and approximately what time you're coming back. Pack a picnic – there are tables under the tall trees. And the cost? It's free!
Hike the wild beauty of Montgomery Woods when you request your stay at Mendocino Redwoods RV Resort
---