The Best Restaurants in Willits, California
It's a lot of fun to cook over a campfire or on a grill while you're camping here at Mendocino Redwoods RV Resort but if you find yourself itching to discover local cuisine, you're in luck! We have an abundance of delicious restaurant options from all over the world, including Italian, Greek, Mexican, Asian, Cambodian, American, and more. To make it a little easier for you to choose, we've catalogued the best restaurants in Willits, California and we're going to share them with you now (listed in no particular order).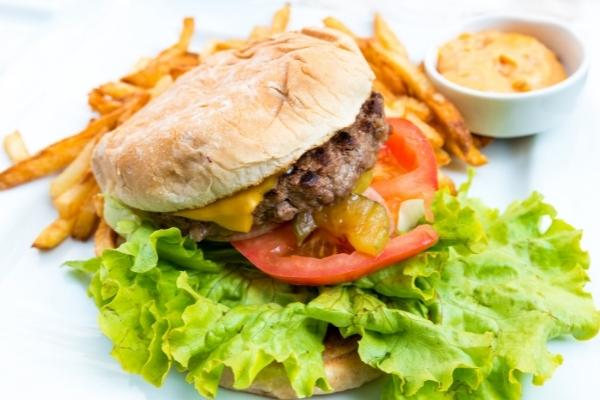 The Loose Caboose Café ($$)
Brunch and lunch are the name of the game at The Loose Caboose with serving hours from 10:00am – 3:00pm Monday through Saturday. Here you'll find American style sandwiches, subs, topped hot dogs, soups and salads, and pizza, as well as coffee drinks, old fashion shakes and sodas, and beer and wine. Indoor and outdoor seating is available.
Dahvi's Kitchen 101 Burgers & Cambodian Food ($$)
As the name implies, Dahvi's Kitchen serves burgers (on the 101) along with other Cambodian fare like spicy lemongrass basil stir-fry, satay skewers, bahn mi, and khor (caramelized chicken with veggies and noodles). Dahvi's is open Monday through Friday from 11:00am – 7:30pm and has indoor and outdoor seating available.
La Siciliana Restaurant & Pizzeria ($$-$$$)
Serving up authentic Sicilian cuisine is one of the best restaurants in Willits, California, La Siciliana. It is a perfect family friendly location to enjoy your favorite pasta or pizza dish. They use locally sourced ingredients from John Ford Ranch, H-Bench Ranch, and Roundman's Smokehouse, and they prepare their sauces daily from scratch in small batches. Order to stay or to go every day from 11:30am – 8:30pm.
Café 77 ($)
For breakfast, brunch, and lunch, check out Café 77 for classic American dishes like French toast, California benedict, and more. Bring your appetite any day from 7:00am – 3:00pm.
Bangkok Pho and Thai Food Express ($-$$)
Get your Pho fix and more at Bangkok Pho and Thai Food Express. Their menu includes items like curry puff, Thai fries, noodle dishes, fried rice, garlic salmon, and pho tri tip. You can stop by any day from 10:00am – 9:00pm and choose to sit inside or on the patio.
El Chicano Restaurant ($$-$$$)
This is authentic Mexican food like you want it to be. El Chicano serves up big portions for breakfast, lunch, and dinner in a family-friendly and colorful atmosphere. They are open every day from 7:00am – 10:00pm.
More of the Best Restaurants in Willits, California
Honorable mentions for best restaurants in Willits, California go to Szechuan Asian Restaurant, Brickhouse Coffee, 101 Drive-In, and Roland's Bakery and Bistro. To experience these culinary delights, plan your trip to Willits and book your stay with us at Mendocino Redwoods RV Resort, where your next family adventure awaits.
---