Vacation in Cabins Under the Tall Trees
When Americans – lured by the promise of gold in California – reached Mendocino they built cabins to begin their new lives in the golden West. You can be just like the Pioneers of yesteryear when you reserve a cabin under the tall trees here at Mendocino Redwoods RV Resort.
Better Than Pioneer Cabins
Well, not exactly like Pioneer cabins. Our newly-remodeled cabins are better! Did the Pioneers have indoor bathrooms? Heck no! Those poor souls had to build an outhouse or hide behind a bush. When you choose a cabin or lodge at Mendocino Redwoods, you get all the comforts of a modern home plus all the deluxe amenities of a resort.
Many cabins have bathrooms
Many cabins have kitchens
Some cabins are pet-friendly
Some cabins are handicap-friendly and ADA approved
All cabins and lodges are furnished
All cabins have WiFi
Some include a TV or you can rent one
All have a grill and picnic table, some have a front porch with furniture, a fire ring, and a swing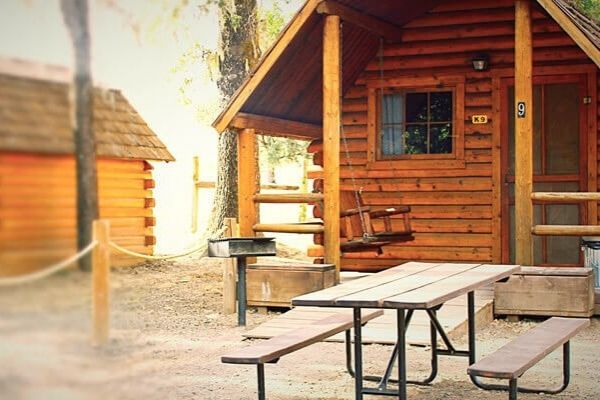 The Pioneers didn't have a swimming pool, hot tub, spray park, mini-golf, snack bar, or a dog park either. But we do! Just choose the lodge or cabin that best suits your needs and bring your own linens and towels.
Old-Fashioned Fun
If our cabins make you feel old-timey too, bring the kiddos to the Old West Play Area – it's also the scene of outdoor movies in the evening.
Google Reviewer Lauren G says, "Activities and amenities are great for families – splash pad, custom jungle gym/playground, petting zoo, RC track, pool, arcade, old west play town, mini-golf course, outdoor movie screen, stocked store, clean bathrooms, they've got it all."
You don't even need an RV to vacation under the tall trees – check out the cabins – they sleep as many as 6 people.
Book now and make a memory you'll cherish forever
---