Visit Northern California's Montgomery Woods State Natural Reserve
Nestled between Highway 5 and the northern California coast is the beautiful Montgomery Woods State Natural Reserve, located in Ukiah. Originally thought to be home of the largest redwood, what you'll find here is all the majesty of an old growth forest full of giant redwood trees, ancient human history, geological wonders, lush vegetation, and bustling wildlife. Average temperatures in the fall and winter range from the mid-50s to the mid-60s during the day, making ideal conditions for hiking and sightseeing in the forest. The Park is only open for day use, but the Mendocino Redwoods RV Resort is open and ready for your family's next adventure.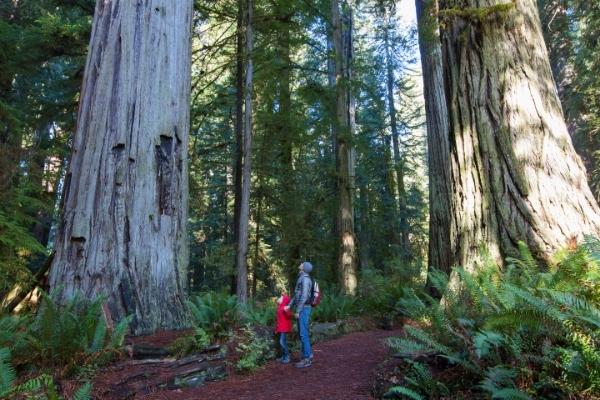 Montgomery Woods SNR Park History
Native people are thought to have lived in this area for more than 14,000 years. The most recent tribe is known as the Northern Pomo, and their descendants still honor the practices of their ancestors, weaving intricate baskets made from local plant parts. Studies have indicated that the Pomo's first encounter with non-natives might have been with Russian fur trappers around 1812.
The gold rush of 1848 brought new settlers in droves and raised the demand for lumber. In the late 1800s, the logging industry in northern California was in full swing. By 1919, a botanist name Ynes Mexia wrote a letter to the Save the Redwoods League and by 1920, logging had been stopped. Montgomery Woods SNR began with a 9 acre donation of land in 1945, which has now grown to a total of 2,743 acres.
Geology, Vegetation & Wildlife at Montgomery Woods SNR
The ground beneath the park was formed nearly 66 million years ago and is made from a granitic-metamorphic complex and deposits from underwater sandstone, shale, and chert, known as the Franciscan Formation. On the surface of Montgomery Woods SNR, you'll find giant redwoods, a Douglas-fir / redwood mixed conifer, oak species including tanoak, Oregon white, black, canyon live oak trees, robust ferns, huckleberries, and redwood sorrel. Residents of the park include amphibians like the foothill yellow-legged frog and the red-bellied newt. Please remember that the reserve and its natural and cultural resources are protected by state law and may not be disturbed.
Things To Do in Montgomery Woods SNR
The entire 2-mile loop around the park can take around an hour or two to hike, but you can also walk the trail as far as you want and turn back when you've reached your time allotment. There are opportunities for geocaching throughout the park, as well as picnic tables, restrooms and interpretive signs at the park entrance.
Where To Stay When Visiting Northern California's Montgomery Woods SNR
Since Montgomery Woods SNR is only open sunrise to sunset, you'll need a place to stay while you're in northern California. Mendocino Redwoods RV Resort is a modern family camping experience that promises to create lasting memories for you and your family in one of the most majestic areas of the country. Book your RV site or Cabin today.
---