Wild Turkeys in Willits
With Turkey Day coming up fast, you might be interested in the story of wild turkeys in Willits. In prehistoric times, the Californian turkey roamed the land that would eventually become Willits and your campsite at Mendocino Redwoods RV Resort. It became extinct about 10,000 years ago, most probably because of climate change.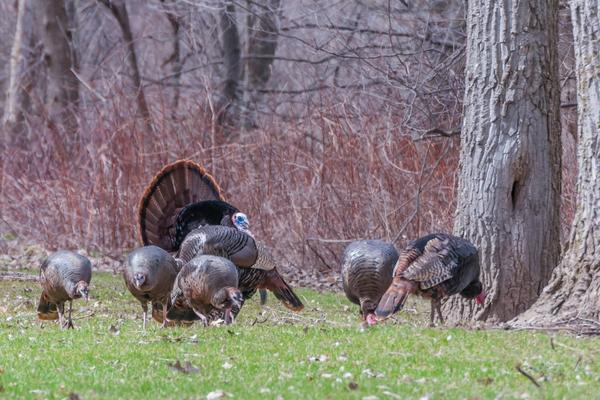 Fast forward to the 1960s
Mendocino County is rich in all the things that wild turkeys love, like tall trees with branches to roost on, farmlands full of grain, and plenty of berry bushes. So when the California Department of Fish and Game introduced a modern species of turkey to our area in the 1960s, it was love at first sight for the birds. There are plenty of wild turkeys around here now.
In fact, you could shoot your own Thanksgiving turkey. Fall turkey season opens the second Saturday in November and extends for 30 consecutive days. The bag limit is one either-sex turkey per day, two per season.
With the exception of the State Game Refuge, which straddles the boundary line of the Stonyford and Upper Lake Districts in the southern part of the Mendocino National Forest, all public land in Mendocino County is open to hunting. You must have a California hunting license.
Gobble, Gobble
Although Willits and the surrounding countryside is a paradise for hunters, you may feel more comfortable with preparing a grocery-store turkey. Hop in the car and head to these nearby supermarkets for the mainstay of your Holiday dinner…
Safeway at 845 S Main Street in Willits Shopping Center
Mariposa Market at 500 S Main Street in Willits
Grocery Outlet at 1718 S Main Street in Evergreen Village
Plan a Thanksgiving Getaway
November is the ideal time to plan your escape from the ordinary. The forest is bursting with colorful foliage, wild turkeys and other animals can be seen when you hike up the mountain, and the Premium RV Sites even have their own hot tubs!
Reserve Your Perfect November Vacation at Mendocino Redwoods RV Resort!
---