Winter Camping Comfort Food Recipes
You probably already know that winter months such as January are the perfect time to plan a family camping trip to enjoy the outdoors with smaller crowds. Whether you are staying in one of our RV sites or leaving the RV at home and trying one of our cozy cabin options, the cooler evenings and mornings will have you craving some camping comfort food recipes cooked by the fire ring or BBQ that comes with your Mendocino Redwoods RV Resort site.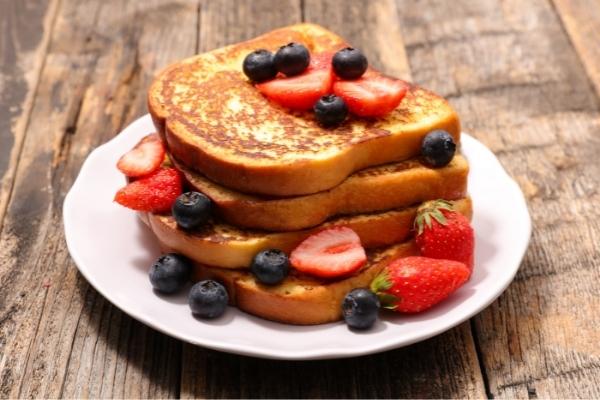 Campfire Cinnamon French Toast
This twist on french toast is super easy to make and can feed families of just about any size.
Ingredients
1 loaf cinnamon-raisin bread
6 large eggs
1 cup milk
2 tablespoons maple syrup
1 teaspoon vanilla extract
Toppings of choice (chopped pecans, fresh blueberries, strawberries, etc.)
Directions
1. Prepare a campfire or grill for low heat. (Let the campfire burn down to mostly coals.)
2. Stack two pieces of foil a little larger than double the size of your loaf of bread (about 24 inches).
3. Arrange bread slices on the center of the greased double thickness foil.
4. Bring foil up the sides to make a dish shape, and leave the top open.
5. Whisk eggs, milk, syrup, and vanilla, and pour over bread.
6. Sprinkle with your toppings of choice.
7. Fold edges over the top, and crimp to seal.
8. Place on a grill grate over a campfire or BBQ until eggs are cooked through (about 30-40 minutes).
9. Remove from heat, and let sit for 10 minutes.
10. Add additional toppings if desired, and top with maple syrup.
Camper's Pizza Sandwiches
Many would consider both pizza and grilled cheese sandwiches to be comfort food. This camping comfort food recipe combines the best of both worlds to delight your taste buds and warm you up on those cool camping nights.
Ingredients
Butter softened
2 slices white bread
Jar of pizza sauce
Shredded mozzarella cheese
Pepperoni slices
Directions
1. Butter both slices of bread.
2. Place one slice in a campfire sandwich iron, buttered side down.
3. Spread pizza sauce and sprinkle with a thin layer of cheese, pepperoni, and any other toppings you desire.
4. Add some more cheese over the toppings and place the other bread slice on top, buttered side up.
5. Cook over a hot campfire, occasionally turning until golden brown and cheese is melted (about 3-6 minutes).
6. Enjoy the taste of grilled cheese and pizza with every bite.
Book Now and Try These Camping Comfort Food Recipes This Winter
Enjoy the amenities, outdoor fun, and of course, delicious camping comfort food recipes with the whole family by booking your winter family getaway to Mendocino Redwoods RV Resort. We'll keep the firewood bundles stocked up at the camp store.
Make S'more Amazing Camping Memories!
---